Hopes and limits of the Trump-Putin relationship
The scheduled thirty-minute chat on the G-20 meeting's sidelines between Vladimir Putin, Donald Trump, and their foreign ministers immediately overshadowed the rest of summit. And as details have emerged, the bilateral meeting appears to be a stunning public relations victory for the Russian side. Advertised by both sides ahead of time as a rather informal opportunity to get acquainted, the session lasted more than two hours and included key American concessions on Russian conduct during the 2016 election, the nature of US public diplomacy, and the nature of cooperation regarding the war in Syria. What remains to be seen is whether the warm relationship between Putin and Trump will make this version of U.S.-Russia relations any more productive than previous episodes of relying on personal diplomacy.
Following the announcement of the side meeting, American and particularly Russian officials downplayed its significance. The Press Secretary of the Russian President, Dmitry Peskov, remarked that this was merely "The first meeting, first acquaintance of two presidents. The main thing in the meeting is this," with the Russian side only expecting to establish a "working dialogue." Putin's foreign policy assistant Yuri Ushakov similarly noted that besides major issues such as Syria and Ukraine, there were "many themes the Russian side was ready to discuss with its American partners." Trump's team members seemed somewhat relaxed ahead of the meeting, with National Security Adviser  H.R. McMaster plainly explaining to reporters: "We have no specific agenda. It's whatever the president wants to talk about."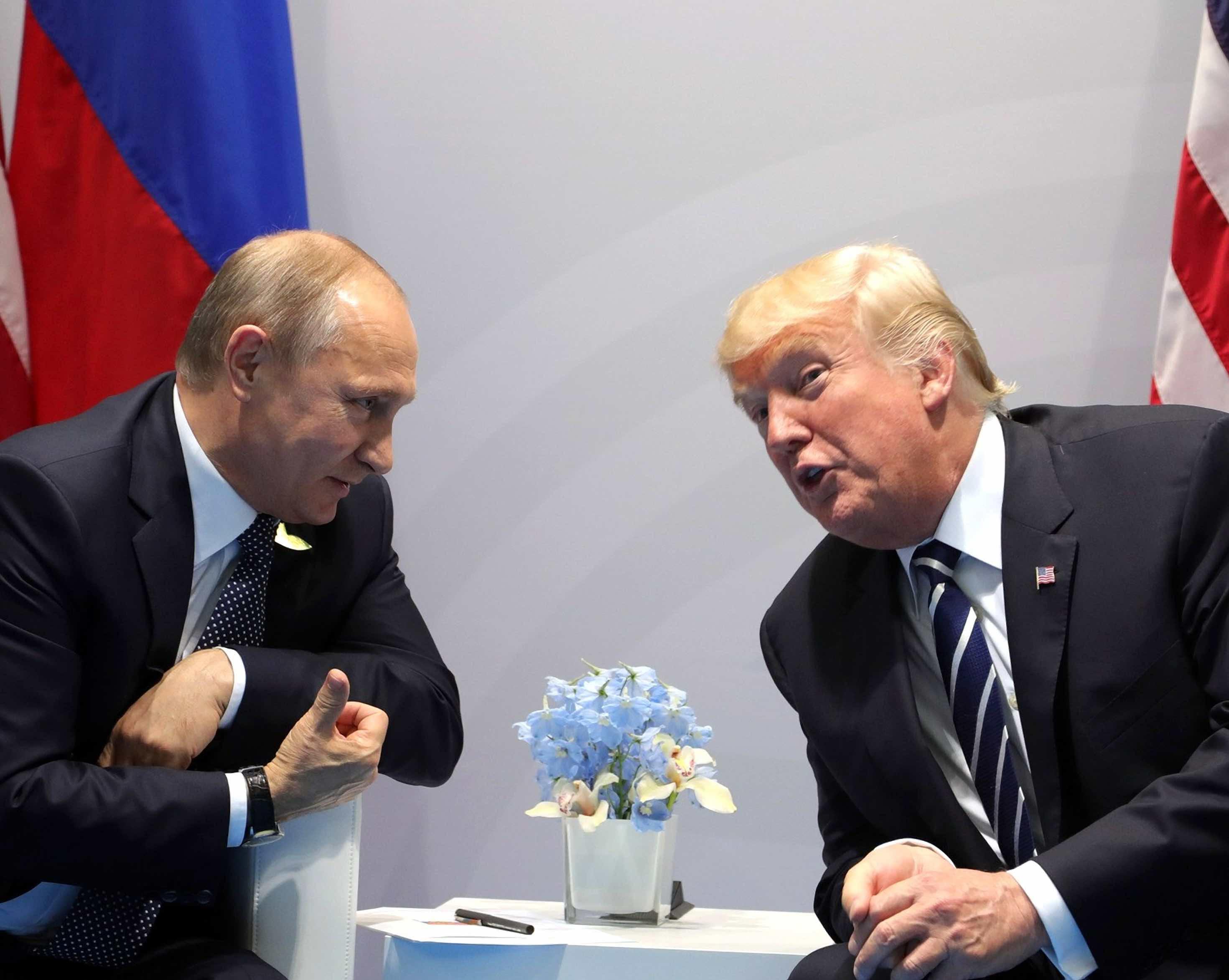 The meeting eventually raised as many questions as it sought to answer. Eight months after the U.S. election, Trump has still not provided a single, clear answer on his position regarding alleged Russian manipulation of the November 2016 presidential elections, alternately casting doubt on Russia altogether, grouping Russia along with other potential aggressors, and admitting that Russia was likely to blame. Following the meeting, in which no official note-takers were present, US Secretary of State RexTillerson declined to address the media, ceding the narrative to his counterpart, Sergei Lavrov, who said that Trump had raised the meddling issue, but "accepted Putin's assurances that Russia didn't do any hacking in U.S. election." Tillerson then claimed that Trump did not actually accept Putin's personal assurance of no Russian involvement, but stressed that the president was "rightly focused on how do we move forward from what may be simply an intractable disagreement at this point."
Confusion over the matter was settled by the readout of the meeting, which noted three major concessions. First, the U.S. will not pursue the election meddling issue any further on an official basis and will instead cooperate with Russia on evaluating cybersecurity threats and responses jointly. Second, the presidents agreed to restrain themselves on interference in the internal affairs of the other country, bringing an end to more than 70 years of U.S. public diplomacy policy of promoting democracy. Third, the two sides announced that a limited cease-fire in Syria would serve as the basis for further cooperation in the region, without indicating which side would enforce that decision.
Whaterver the expectations ahead of the summit, the Trump-Putin encounter follows a well-worn pattern of U.S.-Russia diplomacy. Donald Trump may be very new to politics, but he is already testing the "limits of partnership." As theorized by Angela Stent of Georgetown University, each post-Cold War U.S. president has come into office wanting to solve the "Russia problem." That is, how to establish a mutually beneficial and sustainable relationship with the world's (geographically) largest country and sometimes-partner, sometimes-adversary.
In this pattern, each side identifies specific policy agreements not only for their idiosyncratic benefits but potentially to serve as a framework for deeper cooperation. There were various such instances in the past, such as Putin reaching out to George W. Bush to offer assistance in Central Asia following the September 11 terrorist attacks, and Barack Obama cancelling missile defense plans in Poland to assuage Russian concerns following his own election. Both episodes brought the countries closer together, despite remaining roadblocks and constraints. Yet selective policy agreements do not make alliances or generate self-sustaining cooperation: Bush soon expanded the war in Afghanistan to Iraq, and Putin eventually took his opposition to potential NATO expansion to its logical end by annexing a province of Ukraine and fueling a civil war there. Bilateral relations may begin with policy agreement on specific issues but eventually they founder upon irreconcilable national interests regarding policy concerns and values. When the friction between states causes harm to the personal relationship between presidents, there are little to no institutional, ideological, cultural, or commercial ties that can ameliorate personal distrust.
For Trump and Putin, the Hamburg meeting may be an extreme version of this rather traditional cycle. While a certain overlap of policy interests and even ideological orientations seem more significant than in the past, the costs and benefits to cooperation are not evaluated in the same manner by the two presidents, and that poses a danger especially for Trump. The American president is alienated from the mainstream of American politics, so any agreement he were to reach with a controversial leader such as Putin on policy issues are sure to generate intense scrutiny at home. In particular, the failure to address alleged election meddling in a substantive manner guarantees that the issue will define the rest of his time in office.
Both leaders also have shrinking time horizons to produce true policy deliverables. Trump's chronically low approval ratings, an ongoing obstruction of justice investigation, and the usual losses for the president's party in the midterm elections all point towards a declining ability to move legislation or garner support for foreign policy change. Putin faces much less political ad institutional, but the economy remains in bad shape and beyond his personal popularity is experiencing lower approval ratings than in the recent past on several issues.
Trump and Putin both face elections next year. Although Putin has a nearly non-existent chance of losing, the state of the domestic economy means that he will have to motivate the electorate to turn out at the polls on the basis of foreign policy achievement. Trump is in a more difficult position because cooperation on foreign policy with Putin seems to reflect one of the sources of dissatisfaction with his presidency – particularly with many Republicans in Congress. Whatever, the differences, both presidents may need each other to survive and break out of the well-worn limits of partnership.